Your story matters, and sharing your story publicly will help others realize that their story matters too. Yes, speaking up can be really scary, so I've made it possible to post anonymously if you want to. This is not a platform for denialist, fake hagiographies of Yogi Bhajan or any of his defenders. Nor is …
This new blog Unhealthy, Unhappy, Unholy is a first person account of life at Miri Piri Academy.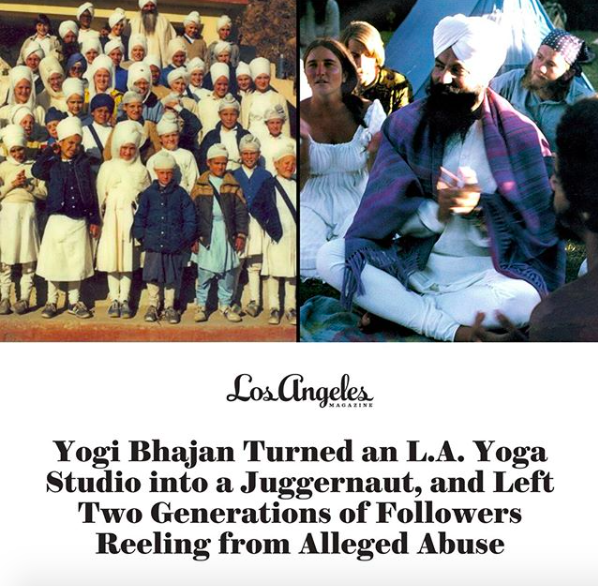 Yes. Generations. Multiple second generation adults speak up in THIS ARTICLE of for Los Angeles Magazine by Stacy Stukin, and a lawsuit has been filed in Los Angeles Superior Court. View this post on Instagram When Yogi Bhajan died in 2004, he left behind a sprawling empire under the banner of the 3HO Foundation, which …
…Reform even look like? For 3HO Sikh Dharma Kundalini Yoga, that is. Have you been able to picture it? If so, what does it look like to you? I honestly don't think they want reform. But for me, making a 'reform list' was my way to begin to sort out and understand the full scope …
to take them up on their offer Okay, so I'm sure many people know by now the Collaborative Response Team is offering mental health services as part of their response process. To do this they contracted an outside provider called Concern Health. If you want 3HO to pay for your mental health care–which is likely …
On Saturday 4/25 Khalsa Council asked 3HO second generation-ers to come forward to the council and tell them about our experiences. They held a zoom meeting that went on for about 9 hours, no breaks. I sat in for about a third of it. Bearing witness–to even a short segment–has put me in Fight or …
Okay, so I decided to go ahead talk to both Olive Branch and to SatNam at the office of legal counsel after all. Why though, after such a vehement position? I had to give a lot of thought to this. It's not healing to revisit our abuses, and it's important to do so in a …
The Siri Singh Sahib Corporation Collaborative Response Team has decided to team up with a religious non-profit organization called An Olive Branch to conduct an independent investigation into the recent allegations of sexual misconduct by its leader Yogi Bhajan. Below is my letter from March 11 2020 to An Olive Branch regarding the issues that …
Continue reading "Correspondence with An-Olive-Branch.org (a long read)"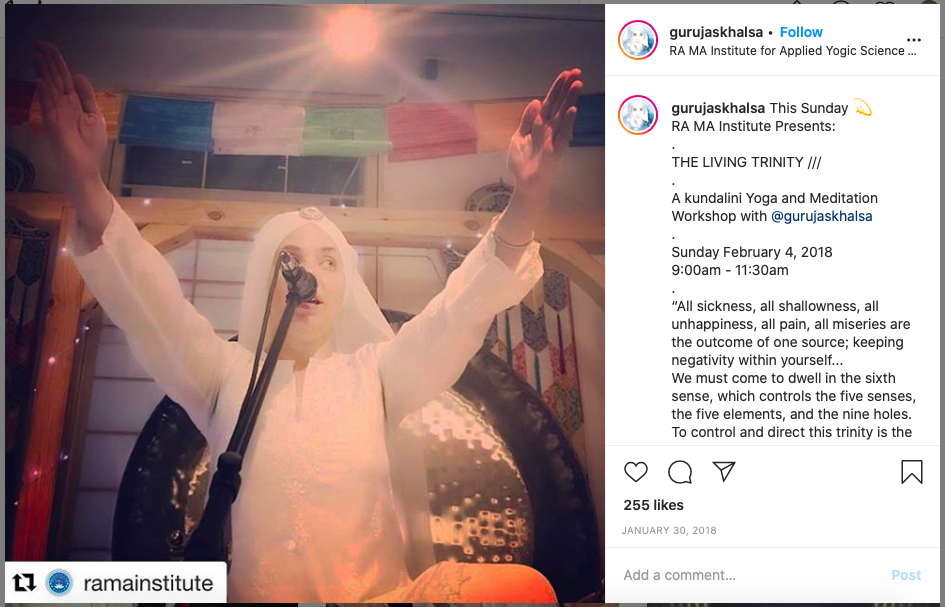 Um, your boy is a dud.  And all you're doing is trying to capitalize on this dude's name and image. And you have no idea what you're saying. The below excerpt is from a draft in 2018. I decided to go ahead and publish it because I think it's funny. It's now 2020 and stupid …
"It wasn't like that for me""You must be remembering it wrong""It wasn't the same for everyone""I don't see myself as a victim""You're allowing yourself to be a victim""I've moved on. You should too" These are some of the invalidating things that fellow indiakids have said to me regarding our upbringing. Just like the normalizing stuff, …
Continue reading "The Stubborn Persistence of Invalidation and Why it's So Toxic"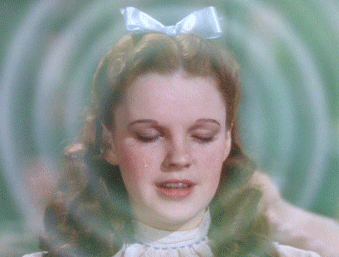 Thanksgiving for us meant 'home again'. My parents started flying me and my sisters back for the full winter break starting in 5th grade. We usually got home right in time for Thanksgiving and the home cooked feast that came with it. Food was a really big deal for me, beginning in early childhood. Good …
It's been ten years since I wrote about what it was like to be in India on the day Indira Gandhi was assassinated. What took place on Halloween 34 years ago still remains a Specter that haunts. It's the specter of memory. Let's neutralize this ghost with knowledge. Read this book: Amritsar: Indira Gandhi's Last Battle …
Are these phrases familiar to you? "I'm still glad for the experience""I wouldn't trade it for anything""I'd rather have been in India than in the U.S.""My parents were worse, so I was better off away from them""I'm okay now, so it must have been okay""It wasn't all bad" If stuff like this sounds familiar it's …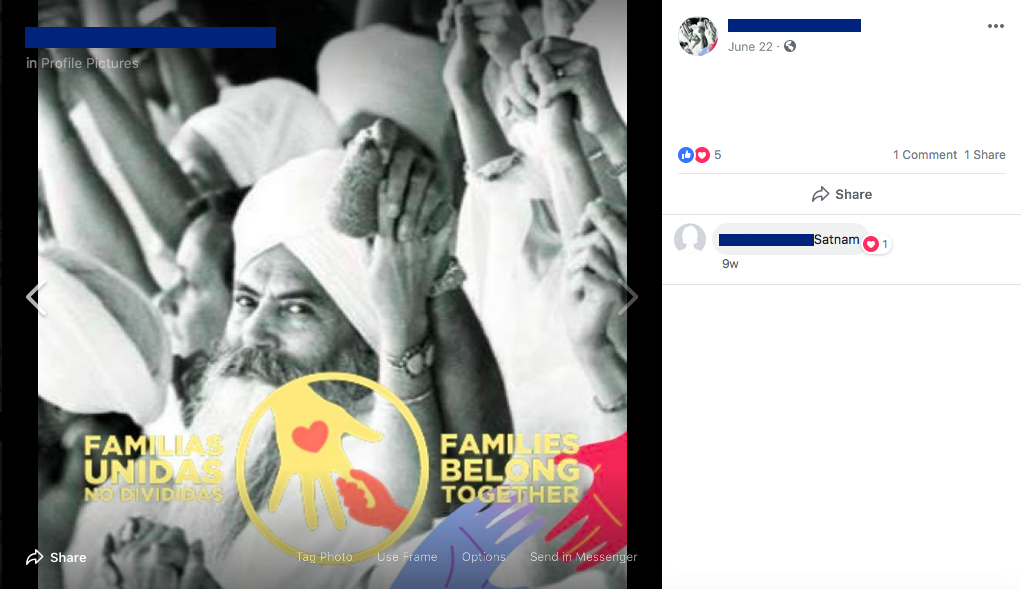 How insulting is this: Hey. Assholes. RIGHT NOW there are 3HO Sikh Dharma children who are thousands of miles apart from their parents–children who have been separated because Yogi Bhajan told their parents to do it. Told their parents that their "children don't love them". Told their parents that "distance therapy" is a thing. And …
What's happening now–Children being torn from their parents at the US border–might feel all-too personal. It can trigger a lot of unhappy memories. I have a clear memory of how I felt in my body and in my mind when I was really young and separated from my parents. I remember not feeling, and just …
Continue reading "Separating children from parents is wrong. Very wrong."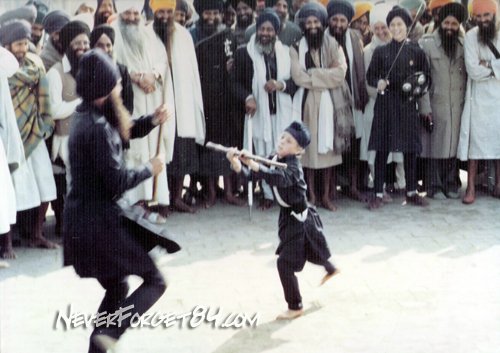 Yogi Bhajan, Jarnail Singh Bhindranwale, Nanak Dev Singh, a 3HO child who looks to be no older than ten years, another 3HO child probably a teen, and a 3HO woman. I can't even begin to make sense of this scene. Can you? Do you have first-hand knowledge of it? Do you know?
…Meaning, it might take a while. After years of keeping this blog, I have had the opportunity to speak with a number of ex-classmates, talk to people, and have real conversations about growing up in 3HO Sikh Dharma. When I do take time out of ordinary life to reconnect or have a conversation, what usually …